Pinewood Beach Resort & Spa
Pinewood Beach Resort and Spa in Ukunda Mombasa Kenya is about 1 hour 45 mins from Mombasa Airport. To get there you pass through the city and over the ferry, which is a snapshot of life there for the locals.
The road gets very bumpy as you near the resort passing a small local airport which also has flights to the Masai Mara.

The hotel is a collection of whitewashed villas arranged between the beach and the main block which houses the restaurant. The rooms are simple but comfortable. The plumbing is African but fine.

Food is excellent. A few times each week, the restaurant moves to a beach annex, which is very atmospheric.
Best of all, the staff are lovely people, keen to be of service and encourage more tourists to come with their wealth - hotel work is much sought after by local people.

The beach is white but most people stay in the hotel garden for shade and to avoid the polite but intrusive hawkers.
The hotel run volleyball every afternoon which is a good way to meet other guests if you are sociable, especially good for teens.

Very relaxing atmosphere - quiet and colonial - mostly British guests - recommended!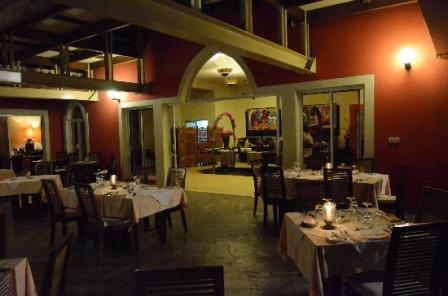 ---
Other Beach Hotels and Lodges in Mombasa
Baobab Beach Resort & Spa › |
Kole Kole - Baobab Resort Diani › |
Pinewood Beach Resort & Spa › |
Diani Reef Beach Resort & Spa › |
Diani Sea Resort › |
SENTIDO Neptune Palm Beach Resort › |
Amani Tiwi Beach Resort › |
lti Kaskazi Beach › |
Hotel Travellers Tiwi Beach › |
Kinondo Kwetu - SENTIDO Paradise Beach Resort › |
Kinondo Poa › |
---