Lushoto Tanzania Travel and Hotels Accommodation Guide

Lushoto is the major town and district centre, albeit small, in the Usambara Mountains, halfway between the coast and the parks. We bring you all Hotels and Lodges in this area. It can be reached if turning from the main Dar es Salaam-Moshi road at Mombo. Direct buses run from Dar es Salaam and Arusha. It was founded by the German administration after the people of the area had been "pacified" about one hundred years ago. The Germans even planned to move their capital here because of the pleasant mountain climate.
---
List of Top Accommodation Facilities in Lushoto

Lawns Hotel › |
Swiss Farm Cottage › |
Maweni Farm › |
---
Safari Lodges and Apartment Rentals in Lushoto

MamboViewPoint › |
Irente View Cliff Lodge › |
Mullers Mountain Lodge › |
Tumaini Hostel › |
---
More about Lushoto Town in Tanzania

---
It offers excellent opportunities for hiking both in the mountains, partly covered by Afromontane forest.
Ecological tours are organized and are a good way of exploring the region. The popular pot plant Saintpaulia has its only wild occurrences in Tanzania, and particularly in the Usambara Mts.
It's a great place to get away from the heat of the coast or the dust of the plains.
The people are particularly hospitable and the whole town has a lovely vibe to it. Accommodation in the town centre is cheap and there are some more upmarket options in the surrounding area.
A word of warning though, those who suffer vertigo might want to think twice about taking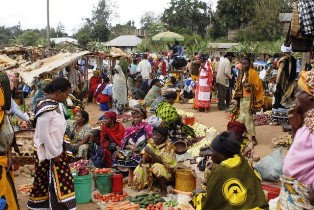 ---
Other Cities and Towns in Tanzania

Kasulu Town
› |
Kidika Town
› |
Kigoma Town
› |
Kilindoni Town
› |
Kilwa Masoko Town
› |
Koani Town
› |
Lindi Town
› |
Mahenge Town
› |
Manyoni Town
› |
Mbamba Town
› |
Mbeya Town
› |
Mikindani Town
› |
Town Schools and Colleges
› |
Dar es Salaam City Guide
› |
Zanzibar Visitors Guide
› |
Bukoba
› |
---