Kole Kole - Baobab Resort Diani Ukunda Mombasa Kenya Coast
Everything at Kole Kole Baobab Resort Diani Ukunda is great - food, swimming pool, teh beach. There are of course lots of beach boys, but that's the way it is there! I'd love to go there again.
This hotel has it right, relaxing atmosphere, good food. The rooms were well serviced.
Staff were friendly and attentive. I would recommend this hotel to anyone who wanted a relaxing holiday with some good entertainment to keep you occupied both day and night. The cheeky monkeys were an additional entertainment.
The room we found was a good size for the 3 of us, it met our every need, not that we spent a great deal of time in our room except for washing and sleeping.
The entertainment team worked tirelessly, they would start and finish with their dance, which was a pleasure to watch each day, and then they would attempt to get visitors to join in the sports on offer, stretching, beach volleyball, water polo, table tennis, pool, swahili lessons, step class and water aerobics, they did not pressure anybody to do any of them and would leave you alone if you wanted to read your book or just watch from the sidelines.
If we wanted to go somewhere quieter we had the option of going to the pool in the maridadi section.
We did make a point of trying all the pools and we found them to be of a very good quality.
Everyday we went for a walk on the beach and out of them all only two beach sellers in the whole holiday attempted to put the guilt trip onto my son and I when we said no thank you, telling us how because we weren't buying their key rings they were going to starve and probably die from starvation, we just carried on walking and they left us alone when they realised we were not being persuaded that way.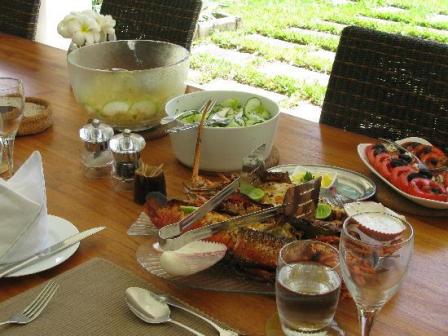 ---
Other Beach Hotels and Lodges in Mombasa

Baobab Beach Resort & Spa › |
Kole Kole - Baobab Resort Diani › |
Pinewood Beach Resort & Spa › |
Diani Reef Beach Resort & Spa › |
Diani Sea Resort › |
SENTIDO Neptune Palm Beach Resort › |
Amani Tiwi Beach Resort › |
lti Kaskazi Beach › |
Hotel Travellers Tiwi Beach › |
Kinondo Kwetu - SENTIDO Paradise Beach Resort › |
Kinondo Poa › |
---