Kigongoni Lodge in Arusha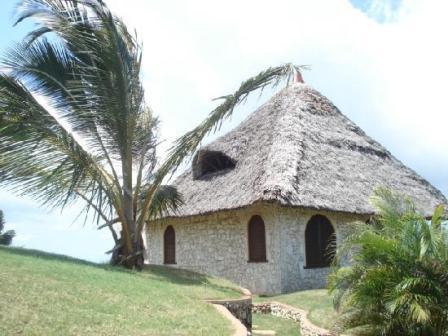 Kigongoni Lodge is located around 9km to the east of the town of Arusha in northern Tanzania. This relatively upmarket lodge is set in a semi-rural location on top of a small hill and with broad views to the east and south.
There is a large security fence surrounding the entire property, and we felt secure. Once past the reception desk, the main bar and restaurant areas lie at the top of the hill, with the pool area beyond, and the rooms are tucked away on the hillsides that slope down from the communal areas.
Located just before entering Arusha, this was a good stopover before beginning the safari. We were in rooms 1 and 2, located down a path and overlooking the forest.
Great way for the kids to get used to the idea of being close to animal sounds! Service was great, and as we experienced in other spots, you get a lot of help when tips are involved.
No worries, though, as we didn't mind throwing a dollar or two for bag carrying. Restaurant and bar area were comfortable and cozy, food was good . . . not great.
Beds were comfortable and netted, and the place had their own generator. Upon check in, we were clearly told when power would be accessible. It worked fine for us.

The Hotel is situated in lovely grounds which provided peace and quiet during our stay. There were also great views from the balcony of our room.



Kigongoni Lodge has been developed in harmony with, and respect for, local community values, heritage and aspirations.Kigongoni is tucked between the trees are eighteen cottages, built in traditional African styles and materials.
The rooms, cocktail lounge, and restaurant all with fireplaces are furnished in an intimate, comfortable manner, maximizing the site's unique views and natural features.
Accommodation is in 18 fantastic, large cottages (60 square meters) and one family room (2 separate bedrooms), all built in African styles and materials. All cottages have a large private veranda with a view of either Mount Meru or Kilimanjaro.
Single beds are 4 by 4 feet wide. Double beds are 8 by 8 feet. All are four-poster beds with large mosquito nets. Large bathroom area with separate shower and bathtub. Writing and sitting area. Fireplace in each cottage.
Cuisine is European style with distinct African elements. Organically grown vegetables produced from own garden are used whenever possible. Breakfast and Dinner are served at table. Breakfast is served with fresh fruits and juice, cheeses,marmalade, homemade breads and local eggs.
The Sibusiso Foundation, a center for improving the quality of life for mentally disabled children and their families, has its home adjacent to the lodge and directly benefits from its revenues.
Staying at Kigongoni will threfore give guests an authentic, homely experience and a sense of life in Tanzania, while providing an opportunity to participate in activities that contribute to the development of local communities.
Other Places of Good Accommodation
The African Tulip |
Arusha Safari Lodge |
Mount Meru Hotel |
Hatari Lodge |
kibo-palace-hotel |
Kigongoni Lodge |
Dik Dik Hotel |
Hotel Flamingo |
Mount Meru Game Lodge and Sanctuary |
Snow Crest Hotel |
Mountain Village Lodge |
Point Zone Hotel |
The Arusha Hotel |
East African All Suite Hotel & Conference Centre
|