The East African All Suites Hotel and Conference Centre
The East African All Suite Hotel and Conference Centre offers more than a hotel room for business and leisure travelers.
Opened in November 2007, the one bedroom units are traditionally furnished apartments.
Location

The hotel is a 45 minute drive from Kilimanjaro International Airport (JRO) and located in the heart of Arusha, set back from busy Old Moshi Road.
The entire suite has either a tile or laminate wood floor with colorful area rugs and feels very spacious because of the high ceilings throughout.
No creepy stained carpets to walk across. The East African Suites are individually controlled air-conditioning - Arusha can get quite hot and humid.
The hotel offers free wireless broadband satellite internet, private airport shuttle, gym, courtyard swimming pool, (did not utilize these services), and nightly turn down service.
Food
A delicious Breakfast Buffet with omelet station is included in the hotel rate. The restaurant offers a la carte lunch and dinner meals.
East African Hotel's Business Center provides access to computers, printers, scanners, fax machines, photocopying, and other executive services.
The two story hotel does not have elevators, but they do have ramps for handicap access to the first floor suites.
Our assigned suite had two steps leading to the door, so it would not be accessible for a wheelchair. The hotel does not have handicap accessible suites for guests in wheelchairs.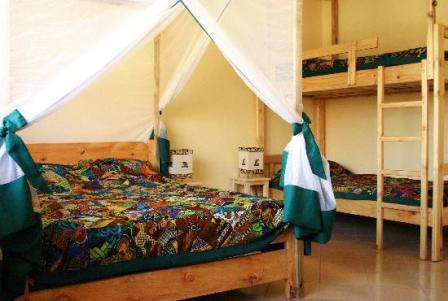 Other Hotels and Safari Lodges in Arusha
Shu'mata Camp |
Legendary Coffee Lodge |
L'Oasis Lodge and Annexe |
Karama Lodge Arusha |
Sakina campsite |
Ndutu Wildlands Camp |
Moivaro Lodges & Tented Camps |
Olasiti Lodge |
Meru Wellness Retreat |
Kundayo Serviced Apartments Lodge |
Riftvalley lodge |
Meru Mbega Lodge |
Klub Afriko Hotel |
ABA Safari & Accommodation |
Momella Lodge |
---
Staff

The quality of service provided by the hotel staff is impressive – from Robert in the dining room, the front desk, and housekeeping.
I mentioned to the Head Housekeeper and the General Manager that the bathroom lacked a bath mat outside the tub.
Travertine tiles become very slippery when wet. Management agrees to place bath mats in each suite. 

East African All Suite Hotel exceeds the requirements of a clean bed and a hot shower after 20 hours of air travel.
This business hotel is a wonderful beginning to the 2 week safari adventure.
East African Suites felt like a 'home away from home'. Unfortunately, the hotel stay lasted 10 brief hours.
Someday, we would certainly return to the East African All Suite Hotel and spend more time exploring Arusha and its surrounding areas.
Facilities
The competitively priced hotel gives you 3 ½ modern rooms: the living room is furnished with a comfy sofa, wing-back chairs, 25" flat screen television, coffee table, and floor to ceiling windows; the kitchen is equipped with a coffee maker, bottled water (to brew coffee), sink, cook top stove, marble counters, and a refrigerator; the desk area provides a large working area with plenty of light and a very comfortable executive desk chair, mini-bar, a grandfather clock and more seating; in the separate closet is the in-room safe, white fluffy bathrobes, extra pillows, and plenty of room to unpack for long stays; the bathroom is very large and brightly lit with an over-size, deep, soaking tub, with an adjustable shower head, and hair dryer; the bedroom is the size of most hotel rooms – a queen size bed with a sitting area, plenty of room for open suitcases, and more floor to ceiling windows.
East African Suites also rents 2 bedroom units. The hotel is near downtown Arusha and the hotel compound is gated with 24 hour exterior and interior security.
Everything went out perfect, and the price was quite reasonable for the value. All in all, we were quite satisfied and would not hesitate to come back.