E Unoto Retreat
I was just planning to stay a night or two at E'Unoto Retreat to 'unwind' and ended up extending my stay for well over a week!
This place is truly a gem in the middle of the Maasai boma-
yes it's a little tough to find, yes the road is bumpy, but after you make it here, you won't
want to leave.
I arrived and right away was introduced to my butler (Lengai is his name) and had my own hut with a huge American-sized bed, beautifully decorated with Maasai carvings and beadwork.
My room had a porch, which had a gorgeous sunset view, and you wake up to the sounds of nature. 
I have to say, the whole idea of having a butler made me uncomfortable at first, but since I ended up staying so long, I got a lot of time to talk with Lengai and find out about his life and his cows.
Other Hotels and Lodges 
Manyara Ranch Conservancy › |
Escarpment Luxury Lodge › |
andBeyond Lake Manyara Tree Lodge › |
Ol Mesera Safari Camp › |
Lake Manyara Hotel › |
Tloma Lodge › |
Migunga Forest Camp › |
Manyara Wildlife Safari Camp › |
Losirwa Camp › |
E Unoto Retreat › |
Havennature Safari Camp and Lodge › |
Lake Manyara View Lodge › |
Lemala Manyara › |
---
He is Maasai and lives 26km away and walks to E'Unoto for work- his shoes
are made from tires- amazing!
I liked how the staff actually interacted with you, checked in on you, asked about your day- not because they felt obligated, but because they are actually interested to know.
This was really cool for me, as during my safari, I felt like I was just in a tourist bubble, observing, but not actually experiencing Africa- which is what I came for. E'Unoto is the first place I felt- wow! I am actually here.

The place is outside the town, and the pool overlooks a nice lake where you can see some animals and fishermen, and there are lots of monkeys and birds around the property- nice if you bring the kids.
Since I stayed for over a week, I spent my days hiking around, visiting the Maasai in the boma, enjoying the nightly entertainment, also I went to the elementary school that E'Unoto built- please arrange for this if you go- it's a casual thing, but there are hundreds of kids there and very humbling.
I'm vegetarian, so special meals were prepared for me- delish! Apparently Eluid, the new manager, is a trained chef, so the menu has gotten a makeover. One day he took me to market to pick out fresh veggies for my dinner- gold star for that!

This place does have limited power, 3 hours or so in the morning and 3in the evening, so by 10pm, you'll want to be in bed. This was tough adjustment for me after a life in neon Tokyo, but trust me- walk outside and look at the stars, the sky is unbelievable.

You need to know what to expect when you book here- it's a shame those who have commented negatively have not had accurate expectations set up for them by their travel agents and safari operators.
E'Unoto sits on Maasai land and hires and supports local families-it's not the Ritz. If you are looking to be pampered in 5 star luxury, your throne.awaits at the Serena. If you want to experience real Tanzania, check this place out! You will be happy you did!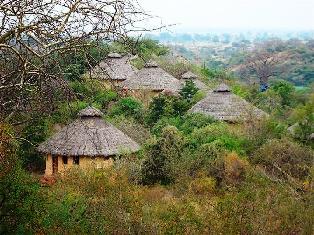 Your first paragraph ...