Dar es salaam City Hotels and Travel Guide

Dar es Salaam means "House of Peace" in Arabic. For a city which such a name it is a surprisingly busy and lively place where it is sometimes hard to find some rest.
There's plenty of accommodation in Dar es Salaam, ranging from centrally-based modern hotels to stylish boutique guesthouses and more and more travellers are choosing to spend more than one night in Dar to experience the vibe of this fascinating city.
From the way the city centre is built you can understand that it was once a small town without much traffic.
The city has grown quite fast since independence, partly without much planning, and now has a population of almost two million.
The city was founded in the 19-th century by the Sultan of Zanzibar who needed a port on the mainland.
---
List of Dar es Salaam Luxury Hotels and Lodges

Atlantis Hotel |
The Oyster Bay Hotel |
Tanzanite Executive Suites |
Southern Sun Dar es Salaam |
Hyatt Regency Dar es Salaam, The Kilimanjaro |
Hotel South Beach Resort Dar Es Salaam |
Kunduchi Beach Hotel and Resort |
Hotel Sea Cliff |
New Africa Hotel |
Harbour View Suites |
Mediterraneo Hotel & Restaurant |
BEST WESTERN Coral Beach Hotel |
Double tree by Hilton Dar es Salaam-Oysterbay
|
Dar es Salaam Bed and Breakfast Hotels and Apartments

Alexander's Hotel |
Hotel Slipway |
Triniti Guest House |
Kebby's Hotel |
Sophia House Hotel & Apartments |
Juba Hotel Dar es salaam |
Rovvena Hotel |
Regency Park Hotel Ltd |
YWCA |
Billys Lodge Hotel |
New Avon Hotel |
Riki Hill Hotel |
The Nelly's Inn |
Royal Mushi's Inn |
Ras Bamba Eco Lodge |
More about Dar es Salaam City in Africa

The main sights are the very colourful Kariakoo Market and clock tower, the National Museum, and the Botanical Gardens. All of these are either in or not far from the city centre.
About 10 km from the city centre along the road to Bagamoyo, you find the the Village Museum, which is also worth a visit. The best beach close to the capital is Oyster Bay.
Other beaches, with better security, our found further north along the coast.
The South Coast is also being developed and has nice beaches. The university is found "mlimani" (on the hills) NW of the city centre in what was once a rural setting but is now encircled by the city.
Looking for entertainment? You are bound to enjoy the pleasures of bars, restaurants along with the lovely beaches. Water parks are without fail, at very affordable prices.
Wander streets busy with goats, chickens, dust-shrouded safari cars, suit-clad office workers and traders in colourful traditional dress. A beach is always close to hand.
What to See in Dar es Salaam
Hunt for bargains in sprawling outdoor market Kariokoo and Mwenge craft market. Stroll among the peacocks in the Botanical Gardens, or head for the beach –
Bongoyo, Mbuja and South Beach are all just short boat rides away. More conventional sightseeing options include colonial-era buildings on Kivukoni Front. And don't miss the eccentric National Museum.
Spend
Pick up traditional Makonde wood carvings of people and animals at the Mwenge craft market or Nyumba ya Sanaa in Upanga.
Tingatinga paintings are witty, colourful representations of Tanzanian life and are on sale all over the city.
For last-minute gift shopping, try The Slipway on Msasani Peninsula; for a more down-to-earth shopping experience, hone your haggling skills in Kariokoo market.
Get Out
South Beach on Kigamboni Peninsula is popular with locals. Hop on the ferry from Kivukoni.
A boat also shuttles between White Sands beach resort in Jambiani and Mbuja Island, where you can count the yachts of the rich expats and eat fresh fish. Jump on the waterslides and go-karts at Kundichi Wet'n'Wild.
Culture in Dar es Salaam City
Hit the Village Museum for displays of traditional dancing and exhibitions on Tanzania's 120 tribes. Dar also has a thriving dance band scene – try Diamond Jubilee Hall or the TCC Club. Experience 'bongo flava' (local hip hop) at Bilicanas, Bar One or live venue Gymkhana Club.
Eat & Drink in Dar es Salaam
Don't miss the Indian food at Anghiti, or communal Ethiopian fare of curried meat and vegetables on a base of spongy bread at Addis in Dar.
Indian restaurants in Upanga serve vegetarian dishes and no alcohol – Retreat is the best of the lot.
Upmarket restaurants cluster on Msasani Peninsula; particularly in Namanga, where you'll find Africa's only Croatian restaurant. At Kivukoni fish market, watch your dinner being netted, gutted and grilled.
Safety
Be warned though: like all seaports, Dar es Salaam has its dangers. You are strongly advised not to wander around the city at night in small groups, particularly around the port and on the beaches north of the city around Kunduchi.
Never exchange money on the streets with the touts who offer you "best rates in town". They will either be rip-off artists who cleverly pad a wad of shillings with blank paper, or undercover policemen who will give you a warning but keep your dollars. The Tanzanian shilling is, in any case, a regulated currency, and the black market will yield scant rewards.
Brief history
The city itself is an eclectic mix of Swahili, German, Asian and British architecture, reflecting its colonial past and more recent history.
It is a relatively new city - Sultan Majid bin Said, then the sultan of Zanzibar, saw the potential of Dar es Salaam as a deepwater port because of its strategic position at the centre of the East African coast.
In 1866, the Sultan began work on his palace, built of coral blocks hewn on Changuu Island off Zanzibar. But he died before its completion and the palace fell into ruin - but not before he gave the tiny port its name - "Haven of Peace".
Eleven years later, the German colonialists revived the plan and seized Dar es Salaam from its Arab rulers, fighting off an uprising by the local Bushiri tribe.
The Teutonic order they imposed on the chaotic little port is reflected today in the neatly laid out grid patterns of streets fanning out around the port, and in several grand edifices scattered around the waterfront, most notably the German Hospital, the Lutheran Church and St Joseph's Cathedral.
New Perspective
Hear hooves pound on the sand and feel the wind in your hair while horse riding at Amani Beach, or visit the mysterious ruins at Kundichi for a glimpse into Dar es Salaam's murky past.
Feel like taking a trip to the lovely Island of Zanzibar? Why not? The ferry picks you up at the Harbor, located by Forodhani Primary school, and drops you off, in Zanzibar.
How long does a trip like this take you ask? Try about 4 hours, but you will be guaranteed that those hours are worth it. Give it a try and you wont regret it. Enjoy!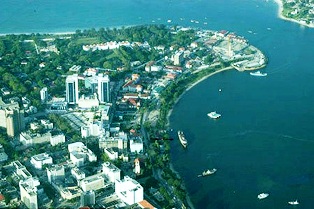 ---
Other Cities and Towns in Tanzania

Kasulu Town
› |
Kidika Town
› |
Kigoma Town
› |
Kilindoni Town
› |
Kilwa Masoko Town
› |
Koani Town
› |
Lindi Town
› |
Mahenge Town
› |
Manyoni Town
› |
Mbamba Town
› |
Mbeya Town
› |
Mikindani Town
› |
Town Schools and Colleges
› |
Dar es Salaam City Guide
› |
Zanzibar Visitors Guide
› |
Bukoba
› |
---